Kenpo Encyclopedia of Knowledge
A Teacher Guide
First Published - FACTA Publishing - 1985
This book covers all the terminology used in the Seishindo Kenpo System. Many of these tearms can be found in many different Kenpo related Styles. These terms are used to help the student associate standard words with action. GM Frank Landers has made the Encyclopedia Available as a FREE On-Line Read.
~ Read More ~
The Internation Seishindo Kenpo Association
Official HandBook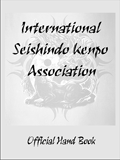 First Published - FACTA Publishing - 1980
All the information needed for enrollment into the Seishindo Kenpo Association. Rules and By-Laws of the Association. The book is available as an On-Line Free Read.
~ Read More ~